The World As We Know It
Founded in 1830 to promote the advancement of geographical sciences, the Royal Geographical Society (RGS) is today a 16,000-member professional organization. Since its beginning as a dinner club where informal scientific debates took place, the Society has been home to notable scientists, geographers and explorers who've helped understand and map the world as we know it.
Thorough its history, the Society has successfully advocated for the inclusion of geography in schools and universities, and served as an information exchange for geographers, explorers, soldiers, administrators and naturalists, providing intelligence for academic and state endeavors.
WATCH VIDEO
Primary Source Maps and Charts Dating Back to the 1400s
With parts I & II spanning 1482-1899 and 1900-2010 respectively, the Royal Geographical Society (with IBG) digital archive contains more than 150,000 maps, charts and atlases complemented by manuscripts, field notes, expedition reports, scrapbooks, correspondence, diaries, illustrations,  and sketches.
The archive is representative of the world's largest private collection of maps and charts, along with atlases, globes, world gazetteers, and original manuscript mapping dating back to the 1400s that is held in the Society building in London. Some of the most influential geographers of the last two centuries have contributed to the collection.
Notable RGS members and contributors whose works can be found in this archive include Gertrude Bell, John Hanning Speke, David Livingstone, Robert Falcon Scott, Richard Francis Burton, Ernest Shackleton, and Edmund Hillary.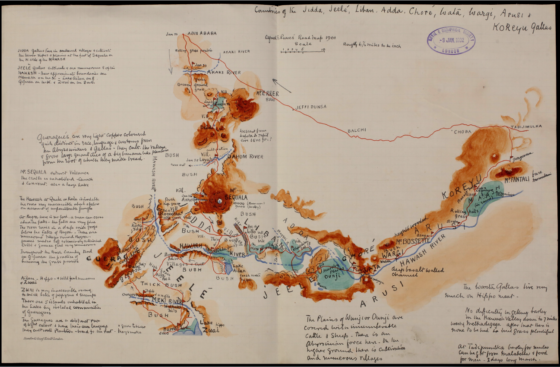 Plan of the Town and Fortifications of Ceuta in Africa. Map, 1813. Source: Royal Geographical Society (with IBG)

RGS Part I

1482-1899

Highlights include:

15,000 lantern slides
Collections on colonization, including the 'Scramble for Africa'
Historic climate data
Extensive mapping related to the British Empire

Frost Map of the Union of South Africa. Pretoria: Surveyor General's Office, 1922. Scale 1:8,000,000. Source: Royal Geographical Society (with IBG)

RGS Part II

1900-2010

Highlights include:

Primary source materials on polar and desert expeditions
The Everest collection
Materials on de-colonization
Fellowship certificates
Subjects and Themes
Agricultural Geography
Anthropology
Cartography
Borders, Nations & Power
Colonial, Post-Colonial & De-Colonization Studies
Development Studies
Earth Sciences
Environmental History
Ethnography
Geography
Geology
Geopolitics
Historical Geography
International Law, Trade & Policy
International Relations
Meteorology
Physical Geography
Resources & Land Use
Urban Studies
Primary Source Materials
Charts & Plans
Expedition Reports & Scrapbooks
Fieldnotes, Correspondence, Diaries & Personal Papers
Fellowship Certificates
Gray Literature
Illustrations, Sketches & Drawings
Journal Manuscripts
Maps, Manuscript Maps, Gazetteers & Atlases
Monographs
Photographs, Lantern Slides & Artwork
Proceedings & Lectures
Highlights
Sketch of the Victoria Falls. David Livingstone, RGS Images Online, 01/01/1860. Source: Royal Geographical Society (with IBG)

David Livingstone and his Search for the Source of the Nile

David Livingstone was a Scottish physician, anti-slavery crusader and Christian missionary with a passion for exploring Africa and a mission to learn the sources of the Nile River. He believed that discovering the source of the Nile would give him the influence he needed to end slave trade, and replace it with legitimate commerce, during this active period of colonial expansion.

The Society sponsored three of Livingstone expeditions. In 1858, he and a modest crew set out on the Zambezi Expedition to examine the natural resources of southeastern Africa. The botanical specimens and ethnographical knowledge obtained in the journey proved valuable over time.

Livingstone is credited for creating some of the first 19th century maps of Africa, many of which reside in this digital archive.

Edmund Hillary after his successful attempt on Everest. George Band, RGS Images Online, 5/28/1953. Source: Royal Geographical Society (with IBG)

Destination: Everest

The allure of Mount Everest has long beckoned explorers and adventurers to its majestic peaks—and taken many lives in that elusive quest.

The archive collection provides intimate insights into the journeys of scientists and geographers, beginning with the first British expedition in 1921 through the 32 years of attempts that followed, with each failed endeavor providing a little more knowledge to fuel subsequent expeditions.

Success finally came in 1953, when two climbing teams embarked upon the ninth Everest expedition, following the South Col path. Although equipment failure cut one team's climb short, on May 29, 1953, aided by standard oxygen equipment and sheer willpower, Edmund Hillary became the first person to step foot on Mount Everest's summit, followed closely by climbing partner Tenzing Norgay, a Nepali-Indian Sherpa mountaineer. Although they only spent about 15 minutes at the summit, their achievement has had lasting impact.

Letter from Gertrude Bell. Gertrude Bell, RGS Images Online, 4/12/1915. Source: Royal Geographical Society (with IBG)

Gertrude Bell Defies the Odds—as an Explorer and Political Force

By anyone's standards, Gertrude Bell defied the odds—as a female explorer and political influencer. Her extensive travel throughout the Middle East, in combination with her detailed expedition reports, writings and photos, gave many Westerners a window into the Arabian world for the very first time.

This work, in combination with her intimate knowledge of Middle Eastern terrain and its indigenous population, were instrumental in shaping British imperial policy in the region in the early 20th century, making her the only woman exercising such significant political power throughout the critical years of World War I.

You can find out more about Bell's fascinating work as part of the digital archive, alongside rich materials about other groundbreaking female explorers of the late 19th and early 20th centuries.

Sketch of the Northern Part of Africa: Exhibiting the Geographical Information Collected by the African Association. Map, 1790. Source: Royal Geographical Society (with IBG)

Maps and Colonialism in Africa

For centuries, Africa was the target of missionaries, scientists and governments alike. Although these entities had different agendas, from spreading Christianity to colonializing the continent, each discussion of this vast terrain involved a map.

The Society emerged as an information source for all of these groups, with its extensive map room acting as a frequent source of information for the British military. This map collection is now available digitally through this archive.
Advisory Board
Wade Davis

Professor of Anthropology

University of British Columbia

Felix Driver

Professor of Human Geography

Royal Holloway, University of London

Mona Domosh

Professor of Geography

Dartmouth College

Alison Blunt

Professor of Geography

Queen Mary University of London

David Lambert

Professor of History

University of Warwick